If you pay attention to wellness and natural remedy news, you've probably seen something called CBD Oil. It has recently spiked in popularity in states where marijuana is legal. CBD Oil is a carrier oil (like coconut or olive oil), with concentrations of extracted cannabidiol mixed in. Many times you can find it with added flavors like vanilla or peppermint to make it more pleasant to consume.
Cannabidiol is a part of the marijuana plant that contains practically no THC (tetrahydrocannabinol), and is actually an entirely different compound within the cannabis herb. CBD has no recreational or hallucinogenic effects, and is generally not considered to make the user "high." However, CBD in high amounts can create a significant "relaxed" effect in the user, inducing potential drowsiness or dizziness.
CBD vs THC
CBD is one of over 100 chemical compounds found in marijuana. CBD Oil will not produce any signs of intoxication since it isn't psychoactive like THC. You can find CBD Oil online, and it is legal in 30 states for the time being. As of the 2018 Farm Bill, however, the cultivation and sale of hemp became federally legal. Hemp is the source of production for CBD, and the plant being legalized at the federal level is a huge step for all forms of cannabis in the American economy.
5 Benefits of CBD Oil Gummies and Side Effects
Another product on the market that many CBD enthusiasts are talking about are the famous CBD Oil gummies. The CBD gummies are available for purchase in dispensaries and medical cannabis shops in legal areas, and are a great edible option to experiment with for treatment of anxiety.
CBD gummies may be consumed to treat chronic pain or illness, including headaches, insomnia, and inflammation arising from a variety of other problems. Like other CBD supplements, CBD oil gummies may produce unpleasant effects including nausea, dizziness, paranoia, extreme lethargy, and can even exacerbate anxiety in some individuals. Consuming the CBD oil gummies in excess may also create negative side effects in the user. 
Many cannabis and CBD users utilize edible CDB gummies to take the supplement in a less invasive form. You can enjoy these flavorful medicinal treats while you watch your favorite movie, television show, or even if you are just cleaning the house. CBD is not known for being hallucinogenic, but the relaxed state created by the CBD may leave you craving a nap, or even a meal.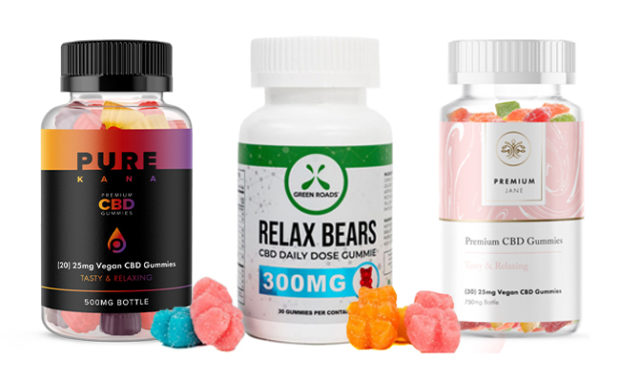 Popular brands/producers of CBD gummies include Green Roads CBD Gummies, Purekana CBD Vegan Gummies, and Premium Jane CBD Gummies, among many other competitors. CBD gummies are a good alternative to baked goods, and are typically 100% vegan and organic. CBD product companies take pride in bringing a natural product to the marketplace that will leave individuals feeling better than before.
CBD Oil Benefits
One of the most widely talked about benefits when it comes to CBD Oil is the variety of different ailments it can treat. CBD Oil benefits range far and wide from things like anxiety and depression, to multiple sclerosis. Studies have shown it helping with pain as far back as 2900 B.C.
The Science of Cannabis
Our body creates neurotransmitters called "endocannabinoids" which bind to  naturally occurring cannabinoid receptors in our brain. It's been shown that, after someone starts consuming CBD for pain, it actually acts on the endocannabinoid receptors. In regards to CBD Oil for mental health, the results are pretty impressive.
A study was conducted in people who have social anxiety disorder. The primary anxiety of the individuals was the fear of public speaking. One group was given a placebo treatment, and 24 individuals were given 600mg of CBD Oil. The group that had taken the oil showed greatly reduced cognitive impairment, and anxieties surround public speaking were substantially reduced as compared to the placebo group. As for CBD and depression, it has been proven that after ingested, it raises the level of serotonin in the body. Serotonin is a neurotransmitter that helps us control moods and behaviors among other activities.
CBD for Physical Health
Another potential benefit of CBD Oil is its use for the treatment of high blood pressure.  They found in a group study of men that were healthy, that after taking CBD oil, their resting blood pressure was reduced. They then gave the men a stress test, and as you would expect, the people who took the placebo significantly more stressed than the non-CBD comparison.
When taken on an empty stomach, CBD Oil can work in as little as 20 minutes. You can find the oil in pill form or as a tincture. The tinctures allow you to administer the CBD by placing a few drops under your tongue or in a beverage.
Another popular use for CBD Oil is to promote better sleep. CBD is known for inducing a sleep state in the user, and has been touted for its benefits regarding insomnia and overall sleep quality.
CBD for Epilepsy
In regards to epilepsy, CBD has been shown to provide substantial relief from symptoms of epilepsy in patients with the disorder. In 2015, there was a law passed allowing medical studies in Alabama for the use of cannabidiol, widely known as Carly's Law. The university of Alabama conducted a study in which they discovered that seizure frequency was drastically reduced when CBD was supplemented. They had 132 patients for this survey, 60 adults and 72 children, who had intractable epilepsy; other forms of treatment proved to be ineffective.
They had patients tested at 3 months, 6 months, and lastly at 11 months. and baseline seizure rates were recorded. The mean between all 132 patients at the beginning of the study was 144 seizures within 2 weeks. With the addition of CBD Oil, just 3 months later, the mean had reduced drastically to a rate of 52 seizures within a 2 week time frame, and this remained consistent for the duration of the trial.
CBD for Pets
Another thing about CBD Oil that isn't as known, is that it can actually be incredibly beneficial to dogs. CBD supplements are emerging in dispensaries and CBD shops that are used in pets for the treatment of various ailments.
CBD may assist with old age pains in dogs. Joint pain and inflammation are a few suggested benefits, and the supplement may also curb your pet's anxieties.  It is advised to talk with your pet's vet before turning to CBD Oil, as it can interact with other medications your pet may already be taking.
CBD Oil Side Effects
CBD Oil is a generally safe and natural alternative to a lot of different medicines and supplements. One thing that is important to note is that CBD does have a history of interacting with other medications. Be sure to speak with a professional health care provider about CBD as an option in your health treatment.
One of the main drugs that it can interact with negatively is epileptic drugs, and more specifically, children's epileptic medication.
Some individuals are known to have negative reactions to CBD. Success with CBD is always dependent on individual differences, and may not be the right supplement for you. 
Some of the side effects seen when using CBD Oil are diarrhea, change in appetite, dizziness, vomiting, or change in mood . There have also been concerns that it could potentially increase enzymes in the liver, causing liver inflammation and/or damage. It is also suggested if you are pregnant or nursing to not be taking CBD due to it being a new supplement; the full range of side effects are not yet entirely understood.
CBD: Conclusion
CBD is making a significant impact both on the global marketplace and the health industry. CBD is being touted for its various benefits, and even the legality of the compound is even beginning to change. The Farm Bill of 2018 made hemp a legal cash crop as regarded by the Federal Government, a huge step for America in regards to policy regarding hemp in the economy. Hemp is thought to reach a market value of around $22 billion by 2022.
Subscribe to INQUIRER PLUS to get access to The Philippine Daily Inquirer & other 70+ titles, share up to 5 gadgets, listen to the news, download as early as 4am & share articles on social media. Call 896 6000.
Source: https://usa.inquirer.net/19609/5-benefits-of-cbd-oil-plus-the-side-effects