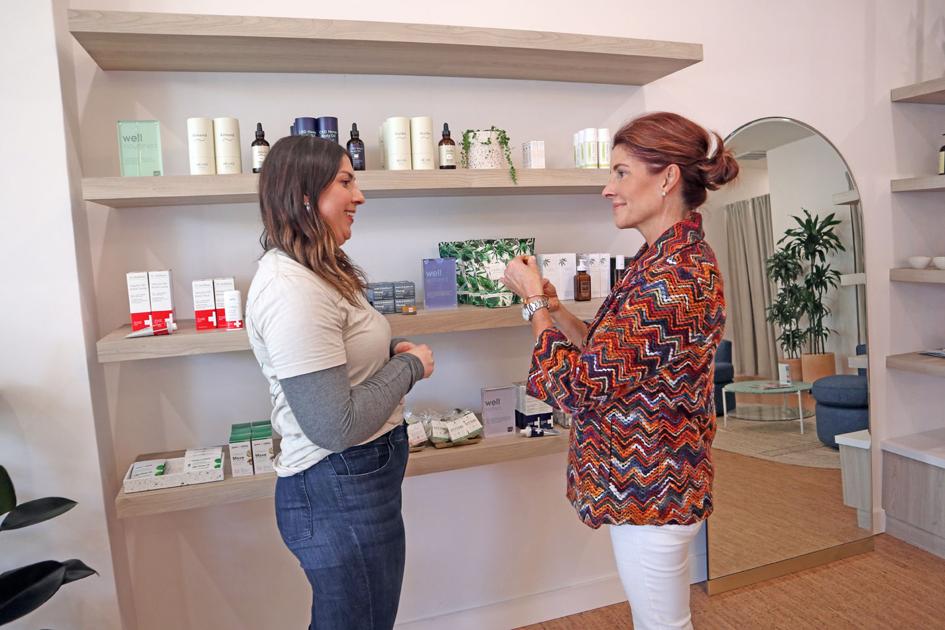 With a bright, airy interior accented by plants and natural tones, a new store in downtown San Carlos is aiming to shed light on a type of cannabis product some believe can be a part of everyday health and wellness regimens.
By opening its first store featuring hemp-based cannabidiol, or CBD, products in San Carlos, San Jose-based Caliva is hoping to spread the word about the health benefits of plant-based products that do not have an intoxicating effect. Though Caliva operates two cannabis dispensaries in San Jose and offers delivery services throughout the Peninsula, the Well by Caliva store the company opened at 1180 San Carlos Ave. earlier this month marks its first brick-and-mortar store featuring CBD products, said Elizabeth Cooksey, senior vice president of retail at Caliva.
Aimed at addressing muscle pain and trouble sleeping, among other ailments, the products of more than 30 vendors are showcased in the store, which also serves as a space where customers can receive one-on-one consultations, attend wellness lectures and participate in yoga classes and meditation, said Sophie Stimola, Caliva's retail marketing and events manager.
"We have a lot of people coming in just wanting to learn about CBD and so we can sit down and have a consultation that's just about 'what is CBD?,'" she said. "We're not just offering the products, we're offering the experience."
Stimola said the products are grouped by use throughout the store so Well by Caliva employees can provide a personalized experience for customers who may have a range of needs, such as sleep or pain relief, workout recovery, mood balance or overall health. Trained as wellness consultants, the store staff may ask what might be contributing to a specific symptom to better understand which products and categories might best meet their needs, said Stimola.
She said products in the "pantry" section of the store, such as hemp-infused chili oil and honey, may make great gifts for those thinking of giving CBD a try in the kitchen, and added CBD-infused tonic water has also been popular among those looking to make a non-alcoholic cocktail. Simola noted CBD-infused peanut butter for pets has drawn a lot of interest from pet owners hoping the products can help with pain and anxiety.
From products that can be ingested — like tinctures, mints and teas, to creams and balms — the store offers something for everyone, said Stimola, who noted some of the beverages sold in the store cost $5 and a 30-dose tin of CBD-infused mints can cost some $16.
Cooksey and Stimola said the store is geared toward serving those who are new to CBD products as well as those who may have tried it in the past and are looking for other ways to address some of their daily health needs. Acknowledging those who work in the store are wellness consultants and not doctors, Stimola said customers are informed they should consult with their physicians.
Stimola explained CBD products contain less than 0.3% tetrahydrocannabinol, or THC, and do not produce the "high" associated with products containing more than 0.3% THC. Though CBD products may help customers with some levels of pain, those who may be experiencing higher thresholds of pain may be better served with products made from plants with more than 0.3% THC, she said, adding those products are not sold in the San Carlos store but are sold at Caliva's dispensaries.
Stimola said she recently spoke with a former professional football player who has had injuries in the past but now uses CBD products to feel better as he's taking care of his young children.
"It's not just a reactive product, it's definitely proactive as well," she said.
Located between one of Caliva's delivery facilities in Brisbane and its stores in San Jose, San Carlos was a natural choice for its first Well by Caliva store, said Cooksey. She said customers can buy products by stopping by the store and having products shipped directly to their home, adding they will soon be able to access them through curbside pickup, which would allow a customer to make an appointment to pick up product without having to park a car.
"We want to make access of the CBD assortment as user friendly and convenient as possible," she said.
Though the store is equipped with a room capable of hosting yoga classes and lectures on the science behind CBD products, the company is hoping it can also host other organizations working in the San Carlos community for meetings and other events. She said Caliva is also hoping to partner with and support the other local businesses dedicated to health and wellness.
Redwood City resident Mike Ammen said he first learned about the store when he walked by it on his way to a haircut next door. He said he developed an interest in CBD products because he likes their therapeutic effect and, because he has kids, doesn't want to take anything intoxicating.
Ammen said he appreciated being able to talk to staff in the store about the products, and felt the setting could be approachable for someone like his mother, who he has wanted to introduce to CBD products to help her with her arthritis.
"It's nice to have it in a more health care … wellness-focused environment," he said. "I think it makes it more approachable."
Source: https://www.smdailyjournal.com/news/local/a-new-view-into-wellness/article_a7331b90-14a6-11ea-9499-63d0087d65f9.html