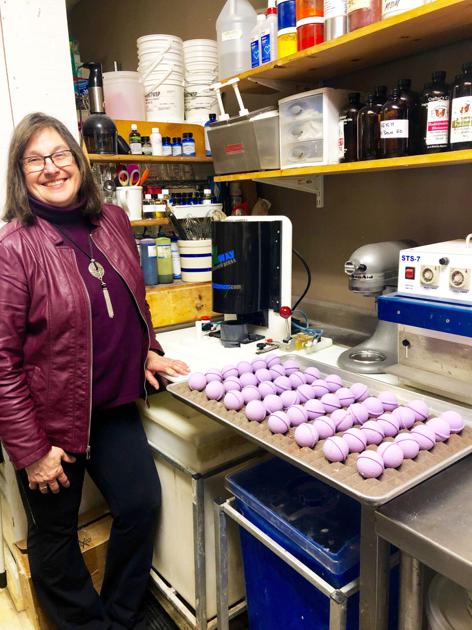 CONWAY — A passion for holistic treatments and love of gardening came together for Deb Jasien on May 1, 2001, when she first opened the doors to her North Conway Village shop, Fields of Ambrosia.
She moved to the valley in 1998 with her husband in order to take care of his mother as she battled breast cancer, as well as helping to take over the family farm.
Still known as Intervale Farm, it's where Deb still grows grapes, apples and peaches. She also has a large vegetable, herb and flower garden.
"We grow a lot of our own food," she said. "When we first moved onto the property, there was no real garden, so that was the first thing I did. Out of the gardens grew the business."
In 2000, Jasien's sister was unfortunately diagnosed with lung cancer.
"I decided to make a product to try to help her through the pain of radiation and chemotherapy," Jasien said.
"I designed this line of products (for muscle therapy) for her. Her skin was very dry and painful, so I designed this nourishing topical spray for her to use, and the first time she tried it she told me it felt like raindrops on her skin, hence the name 'Raindrops'," Jasien said.
In memory of her sister and mother-in-law she donates 10 percent of her yearly profits to the local Jen's Friends Cancer Foundation.
In the beginning, Jasien was growing the herbs she was using in her all-natural bath and body products.
Since the business had grown, she can no longer keep up with the demand herself. Even though she gets her herbs and essential oils sent to her, Jasien has remained true to her roots.
"Everything is plant- and vegetable-based. We don't use any detergents; we don't use any synthetics or artificial fragrances. Only essential oils," she said.
Since her first line of products was created for her sister, the "rural remedies" consist of entire lines of products for various issues including muscle therapy; sinus and congestion; stress and relaxation; leg and foot therapy; and antibacterial.
Jasien's regular products come in 16 different fragrances.
Aside from the products made in-house, she also carries a few products produced by other indie beauty companies. Examples include the nail polishes, body scrubs and eye shadow lines the store offers.
Aside from her extensive line of bath and body products, Jasien also has facial lines both for men and women. They range from a CBD line, a line to combat rosacea and full beard care line for men, including shaving products.
Being a gardener herself, Jasien makes sure not to forget about her fellow growers. She has created a line of natural bug sprays and tick repellants.
In the 18 years that the valley has been home to Fields of Ambrosia, Jasien has worked to bring natural skin care to the area.
Her products can be found in store at 2724 White Mountain Highway in Conway. They also are carried at a few local inns and can be purchased through her website, fieldsofambrosia.com.
For more information, call (603) 356-3532, go to the website or stop in the store. The store is open daily, generally from 10 a.m.-5 p.m. (10 a.m.-4 p.m. Sundays).
Source: https://www.conwaydailysun.com/business/local/business-spotlight-fields-of-ambrosia/article_ecf9c92a-6052-11e9-9882-678da9aee2da.html