For the first week since March, COVID-19 related plays didn't top the Stockhouse Bullboards.
Instead, that spot was reclaimed by a resurgent cannabis sector. Last week saw a string of strong quarterly releases from major LP's is something that many small-cap investors have been anticipating (and awaiting) for a long time, and the tide turned strongly in the market's favor.
But like other potential comebacks that fizzled out on other sector difficulties or general market woes, is this cannabis rebound the real deal? Here are three of the companies that made waves for small-cap investors on Stockhouse last week and where it looks like they're heading.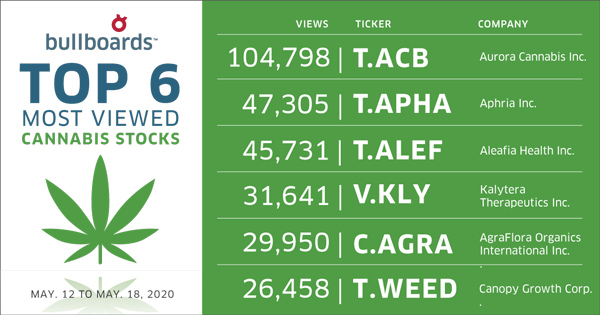 Strong quarters from some of the minor LP's helped keep the cannabis sector afloat, but everyone was holding out for good results from the struggling majors. Last week, those good results came from Aurora Cannabis Inc. (TSX:ACB, Forum), undoing a couple of poor performances and seeing ACB shares soar from $8.29 on May 13 to $20.40 on May 19, an increase of 146%.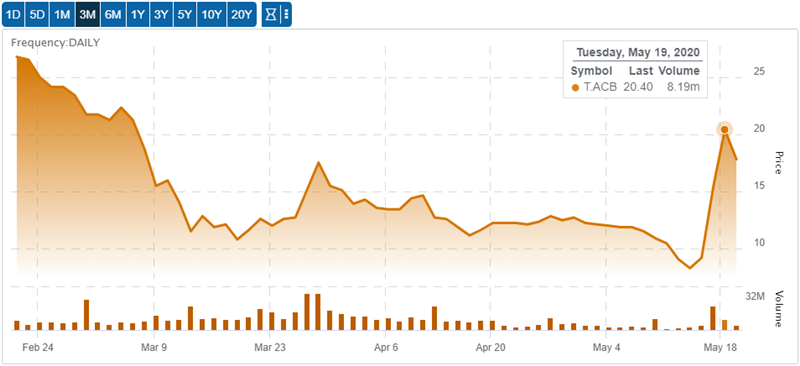 The upswing, which permeated throughout the cannabis sector, was brought about by Aurora's May 14 release of Q3 fiscal results, which finally beat analyst expectations. The results also showed that ACB was on-track with its operational reset, as the LP had committed to righting the ship following poor performance that saw it consolidate shares on a 12:1 basis on May 11 to maintain its NYSE listing.
---
What the "Buzz"
Our Bullboards have up to 2 Million pageviews a day. Get the inside scoop on conversations around the most significant trends and stock appreciations in our weekly wrap up.
Get "Buzz on the Bullboards" delivered to your inbox every Thursday!
---
While there was a lot of celebration on the ACB Bullboard, there was also hesitation in spades by investors that had been burned by the company before. Losing 90% over the last year is reason enough for many to not wait on bated breath, but many investors see the change of guard and recent follow through as the company rightfully picking up steam. As Stockhouse Members like geodcan pointed out, the increase in share price and institutional investing outside of the quarterly results seems like a good indicator.
"According to SH there are 87 million shares traded on the NY and the share price lurched another 53% to the upside. Somebody really likes this company or knows we are close to something game-changing. Despite the Fed position and the NYSE position on marijuana stocks, there are investors not willing to wait to be invested and they like this company that got caught in the never-ending delays conjured in Canada, and they weren't alone..
"
(Po​st:
While Canada holidays
)
What's more impressive about the last week in cannabis, and what may truly signal the turn of the tide, is that the strong results weren't isolated to one company. Hot on Aurora's heels was Toronto-based Aleafia Health Inc. (TSX:ALEF, Forum), a smaller LP which had previously reported strong financials and reiterated that position last week. The company has climbed the most-viewed cannabis Bullboards alongside a rise in share price, from $0.375 on Apr. 21 to a high of $0.76 on May 8 before receding and hovering around $0.63.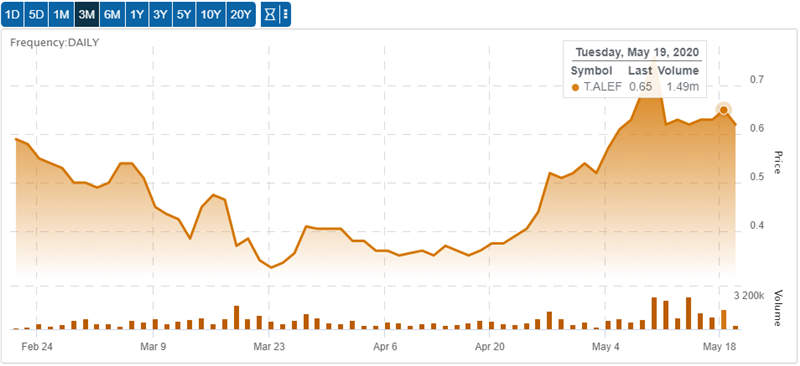 Aleafia's climb was driven by a number of big updates, including the Apr. 22 launch of direct-to-door medical cannabis delivery, the securing of health Canada license expansions for both the company's Paris production and expansion facility and the Port Perry outdoor growing facility. Most impressive, however, was the May 11 announcement of a $13 million bought deal offering and subsequent May 13 release of fiscal results showing record revenue and second consecutive quarter of positive adjusted EBITDA.
Despite ALEF being on a smaller scale than the major LPs, the company's Bullboard picked up on the fact that it achieved stronger cash flow and EBITDA than its competition at similar stages. While some investors harped on the fact that Aleafia's results didn't land with the same strength that Aurora's did, others like Stockhouse Member sotcktracker101 focused on the long-term and how ALEF is actually on track to outperform.
"…The reason [ACB] spiked so high was because they released much improved earnings from previous quarters. At the same time they were so heavily shorted by gullible retail shorters due to the reverse split triggering stop losses and margin calls all over the place. People automatically think that a company is finished after a reverse split, especially after it had lost 96% of its share value since its Oct 2018 highs.

…The difference with Aleafia is that it doesn't have the same exposure and wasn't as heavily shorted so the squeeze was smaller. Plus, they did the raise during all that good news and killed the momentum. Instead of diluting significantly more prior to the run at a lower share price like ACB, they decided to try and limit the dilution by raising higher. Having said that, in case people forgot, Aleafia did surge 174% in 6 weeks and is now settling at 100% gains in the same time period. I doubt ACB will be able to maintain the same gains short term. Aleafia is in a much better fiscal position.
"
(Po​st:
RE:ACB Surged 70% on the same type of news we got wth
)
Though the focus was on recreational cannabis, investors didn't overlook the medical industry and potential for COVID-19 solutions as well. For CBD biotech company Kalytera Therapeutics Inc. (TSX-V:KLY, Forum), the opportunity presented itself, as KLY was already on the lookout for potential acquisitions to expand its reach. Buzz around the company picked up, even though shares of KLY have been sitting around $0.015 since mid-March.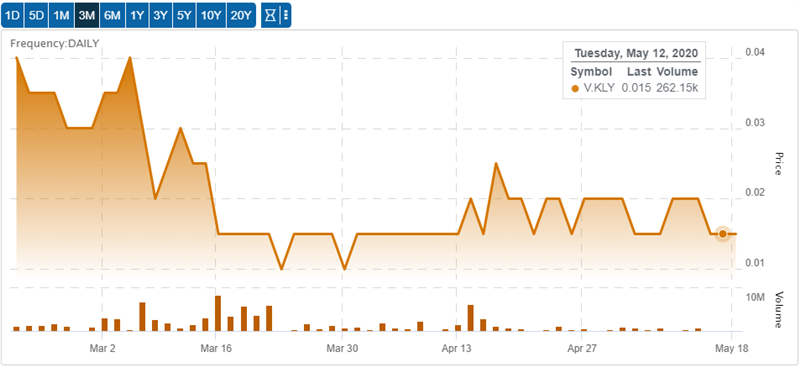 The reason for the latest surge in interest came from a May 13 trading halt on KLY pending news which dragged for more than a week. Last time the company was halted was on account of a potential acquisition that fell through, so hopes were high that a successful venture was found. Finally, on May 19, Kalytera announced an agreement to acquire private company Salzman Group, Inc., which is developing a proprietary drug R-107 for treatment of COVID-19 associated lung disease and other lung injuries.
But as the halt continued on KLY, the company's bullboard has continued to delve into full speculation mode. Some foresaw impending bad news on the horizon that would outdo the acquisition, while others expect results or deals regarding the company's other pharmaceuticals. There's also a growing likelihood that, as Stockhouse Member HighSkies2019 pointed out, the company would lean in to the COVID-19 angle even harder.
"I think this is a valuable deal with the R-107 and KLY's 1012. R-107 is already authorized to use in infants with lung issues and only needs a phase 1 to pass regulations in some countries. I think KLY will use R-107 to get their K1012 to market.

And not sure if this news has any connection to KLY, but in Canadian news yesterday our Gov't announced the first approved testing for a vaccine will be done by health canada officials, which I noticed some mention of in KLY's news release. The Canadian news only noted it was with a Canadian listed venture and normally they name the company, and I also noticed that in KLY's release it also stated that if this R-107 works it will be distributed in Canada… It seems KLY jumped interest from their GVHD program to COVID interest…

"
(Po​st:
More News To Come
)
With COVID-19 investment interest permeating through sectors like cannabis as well as industrials and technology, there's no doubt that healthcare investments remain at the forefront of short-term market interest. The latest poll on the Stockhouse homepage asks what's driving readers interest in healthcare today, if at all, and early results show that while many are staying out of healthcare for the time being, an impressive number are keeping up with healthcare for short-term COVID-19 interest alone.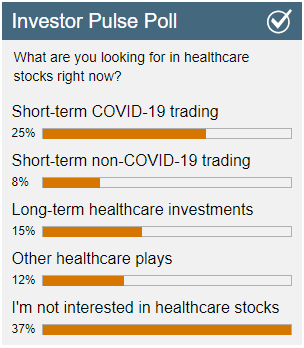 As with any ongoing story, however, we expect those results to change over time. If you'd still like to add in your voice and haven't had the chance to participate yet, we're keeping the poll open so head over to the Stockhouse homepage or click the image below to cast your vote!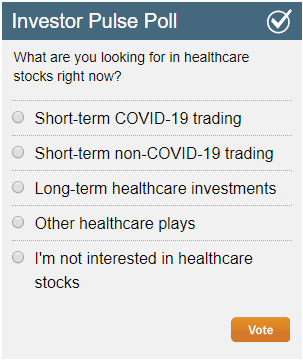 (Click image to go to the poll)
This week's impressive results set us up for a flurry of questions next week: Is the cannabis rebound going to stick? Will the easing COVID-19 restrictions pay off? And what companies are rising after returning to business? For all these answers and more, make sure to stay up-to-date on Stockhouse and the latest small-cap investor discussions on Buzz on the Bullboards. For previous editions: click here.
---
---
Source: https://stockhouse.com/opinion/buzz-on-the-bullboards/2020/05/21/buzz-on-bullboards-eyes-on-cannabis-rebound