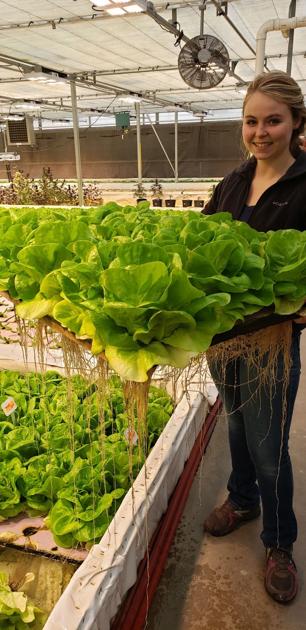 Future Farm Grown focuses on hydroponic gardening which requires no harmful pesticides or herbicides and can be done year-round. They are organically certified in microgreens resulting in the cleanest and most nutritious produce available. The microgreens such as radish, kale, sunflower, pea shoots, scallion and various mixes can be found in restaurants throughout the twin cities. They have been producing lettuce and microgreens for 10 years. However, when Steve Meyer saw a window of opportunity in the hemp market. Future Farm Hemp was born. He, along with his head Horticulturist, Taylor North and other employees began that endeavor. "It was a year of experimentation," states Meyer.
Growing the plant using only biological control factors and other organic farming methods is a learned process. "So, we learned," explains Meyer. "It gave us diversity and in our growing environment, and more options to pursue the market." First, he states, we germinate the seedlings and grow them about 2 to 4 weeks before being sold to farmers or transplanted in our fields. Then you have weed control, which is a big issue, so we used plastic for the plantings, then mowed and tilled between the plant rows. We also used a drip line to feed. Then, when the plant is ready to harvest, we need to test the crop to remain compliant with the law. There are three stiff qualifications and we need a 30 day harvest notification to the state. After we receive our fit for commerce from the state, we are allowed to harvest and sell product. When it is mature, we cut it off the field manually using chain saws- as there aren't any harvest machinery available, yet, to harvest a hemp crop. We then hang it to dry for a week or so in a dry environment. We buck it down, strip it all by hand. To send it to be processed we get a test done and receive a COA which tests for pesticides, molds, heavy metals and CBD content. When that's acceptable, we bag it and store it then send it to get processed for medicinal oils.
At Future Farm Hemp, they give their farmers a farming schedule and guidelines to follow, as well as constant consulting on their crop. From soil testing to get their field to ideal parameters, starting the seedlings for them and continuous assistance. "This year, we had no farmers that failed," states Meyer.
Future Farm Hemp is now currently looking to add farmers who are willing to grow the crop. "The market is booming and we're high on demand and short on supply," states Meyer. "Prequalifying the product needs to be done and some sell it on the internet, and you don't know how clean the oils are, really."
"At Future Farm Hemp, we believe that health begins with giving your body what it needs. Naturally and safely. That's why our CBD products are only grown using organic techniques and produced using the cleanest methods. It's important to know the source of your CBD oil as some could be low quality and contain toxins. Meyer believes that knowing your farmer, where the plants came from and how they're processed is extremely important.
The holistic benefits from CBD oils are reduced effects from anxiety, inflammation, chronic pain, autoimmune disorders, stress, sleeplessness, improved focus and more. Pets are now benefiting from CBD oils for joint relief and anxiety and more. Future Farm Hemp can be guaranteed that it's a full spectrum, organically farmed hemp with the all-natural CO2 extraction and has been tested and verified. The hemp plants are processed into a high-quality CBD oil through the extraction process. Each bottle is filled, packaged and sent out right from Future Farm Hemp.
The market for CBD is booming. This has left Future Farm Hemp looking for more farmers willing to grow an acre or more for a very impressive profit margin per acre.
To learn more, email info@futurefarmgown.com or visit www.futurefarmhemp.com. On Jan. 28, an informational event will be held in which one can learn to grow the plant successfully and how to profit from it. The event starts at 6 p.m., at 2047 County Road E.
Source: https://www.baldwin-bulletin.com/news/local-business-expands-into-the-hemp-market/article_bbb3f24a-38a7-11ea-8ba9-c726f97c5817.html