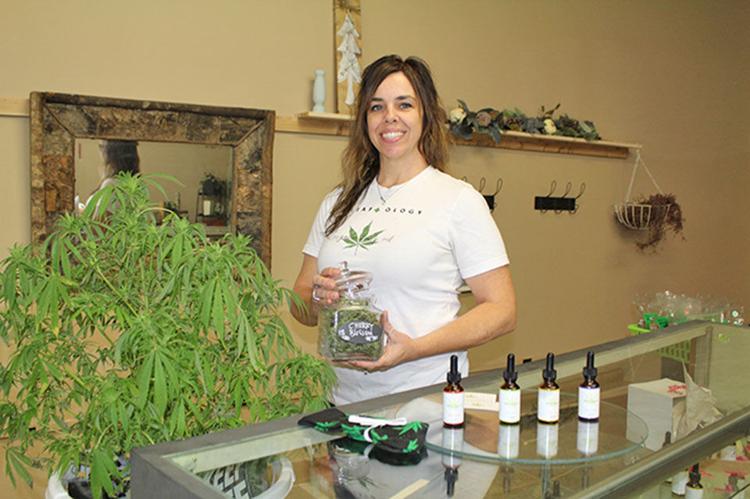 When Lisa Lintner, owner of Releaf Ology in Little Falls, first opened her store, she wasn't sure how well her Cannabidiol (CBD) products would sell.
"We decided to open the store to see if there was a demand and a need. We found that there was a very large need, " she said.
Lintner sells a large variety of products, such as oils that are placed under the tongue, smokable and vapable CBD, gel caps, lotions, bath bombs and more.
A common misconception about CBD products is that it will get the user "high." However, there is no tetrahydrocannabinol (THC) in her products.
"The smokables have a low THC content, but it's within the legal limit," she said.
The store opened in October during the Little Falls Arts and Crafts Fair and has since been the go-to place to find relief for many people.
"Everyone is in pain. A lot of people also suffer from stress and anxiety," she said.
What led Lintner and her husband, Russ, to become certified hemp growers was knowing the benefits of many holistic alternative products, including CBD. After hemp was removed from the Controlled Substances Act (CSA) and recognized as an agricultural crop and not marijuana by the federal government, they decided to pursue the Hemp Pilot Program the Minnesota Department of Health (MDA) launched.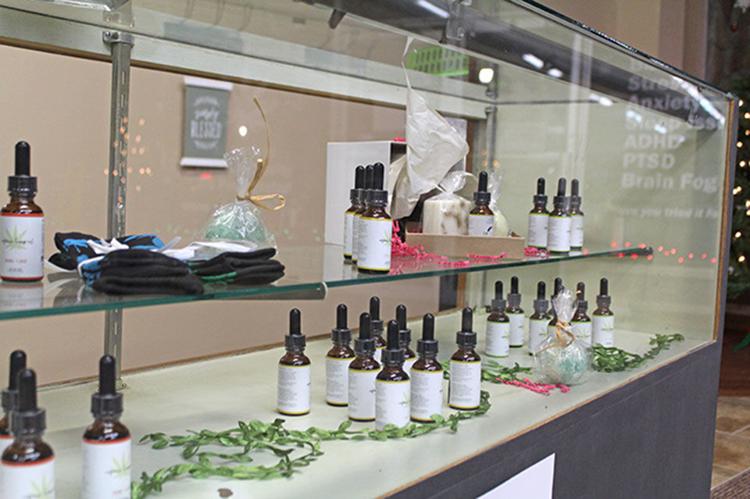 Not knowing how well their product would sell, the Lintners planted an acre. Since it was important to them to keep their product free of chemicals, they never used pesticides to eradicate weeds and other pests. Instead, they, along with their children, Addison, Ajay, Myles and Rowen, spent many hours on their hands and knees, weeding around the plants by hand.
"It was very labor intensive," she said.
Once the product is harvested, it is trimmed, dried and cured before it's sent to another location where the oil is expressed out of the leaves and stems.
The product is then returned to Lintner in a crude form she uses to make the different products.
Another reason for getting into growing hemp was to find products that could help her father. After he suffered a severe arteriovenous malformation (AVM), which left him partially paralyzed on one side, she has looked into alternative methods to help relax his muscles to make him more mobile, she said.
"Something as simple as getting out of bed in the morning, many take for granted until you can't," she said.
Lintner said CBD products can be used to relieve various symptoms and conditions, such as pain, arthritis, back issues, stress, anxiety, sleeping problems, post traumatic stress, brain fog and more.
How much or what a person needs is individualized she said. When customers first come to the store, she usually talks with them to find out what they are seeking relief from.
"For instance, if you have surgery, to soak in that bath bomb can give you relief for a while," she said.
Lintner's store is currently located at 115 First Street NE in Little Falls. However, beginning Tuesday, Dec. 17, her new location will be at 53 Broadway East in Victor Mall in Little Falls.
Open hours are Monday through Thursday, from 2 p.m. to 6 p.m. or by appointment, which can be made by calling her at (320) 360-7140.
Both Lintner and her husband grew up in Little Falls. Besides growing hemp and making CBD products, Lintner has also served as a firefighter with the Little Falls Fire Department for nearly 24 years.
"I love it," she said.
When she is not working, she enjoys spending time with her family, camping and connecting with friends.
Source: https://www.hometownsource.com/morrison_county_record/free/new-business-owner-discovers-local-need-for-cbd-products/article_50c005e2-183a-11ea-bb17-ff9afe580b55.html