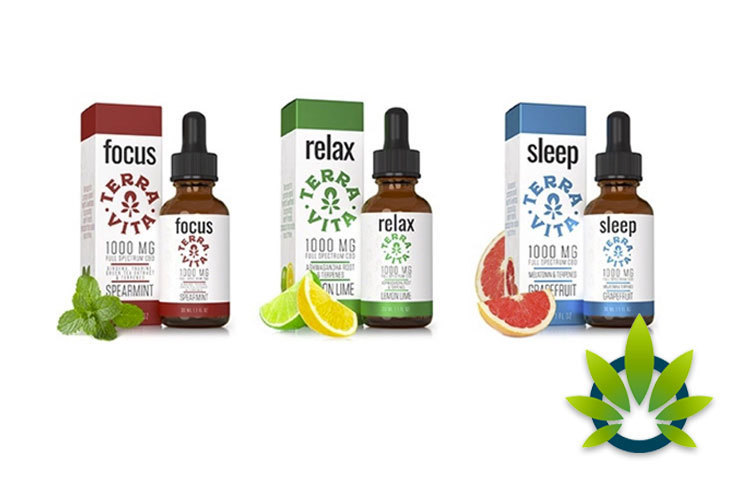 TerraVita has launched a line of powerful tinctures with natural ingredients, major adaptogens, and helpful terpenes that improve sleep, relaxation, concentration, and much more. These tinctures are human, pet, and eco-friendly.
An estimated 14% of Americans are currently using CBD products and TerraVita seeks to exploit this market while responding to the call for more transparency in the industry. What's more, TerraVita becomes one of the first brands to mix the adaptogen ashwagandha root with very powerful full-spectrum CBD. Each bottle of the product has a QR code that upon scanning, allows you to view the full lab results of the tincture including its CBD and terpenes properties.
Justin Matoesian, co-founder of TerraVita says that they employ CO2 extraction to ensure retention of essential cannabinoids and necessary terpenes. Furthermore, biodegradable packaging and labeling how committed they are to providing pure CBD products in eco-friendly processes.
Terravita has three high-performance CBD tinctures for human consumption and two for pets.
Relax is a relaxation and stress and anxiety-relieving mixture with 1000mg of full-spectrum CBD and calming terpenes.
Focus is a better alternative for caffeine's energy and concentration without the latter's jitters. Apart from full-spectrum CBD and brain-empowering terpenes, it has green tea extract, ginseng, and taurine.
Sleep facilitates deep REM sleep with 100mg of full-spectrum CBD, top quality melatonin and calming terpenes.
Pets Full Spectrum Spray and the Pets CBD Isolate Tincture calm anxiety and stress in pets while improving their joints, skin, and coats. Each has 500mg of CBD and heart-friendly omega-3s.
About TerraVita
TerraVita is a GMP compliant, FDA-registered facility with CCOF and AEMSA certifications. All its products are gluten-free, non-GMO, and lab tested for potency and purity.
Source: https://timesofcbd.com/terravita-launches-cbd-oil-tinctures-relax-focus-and-sleep-along-with-pet-spray-products/