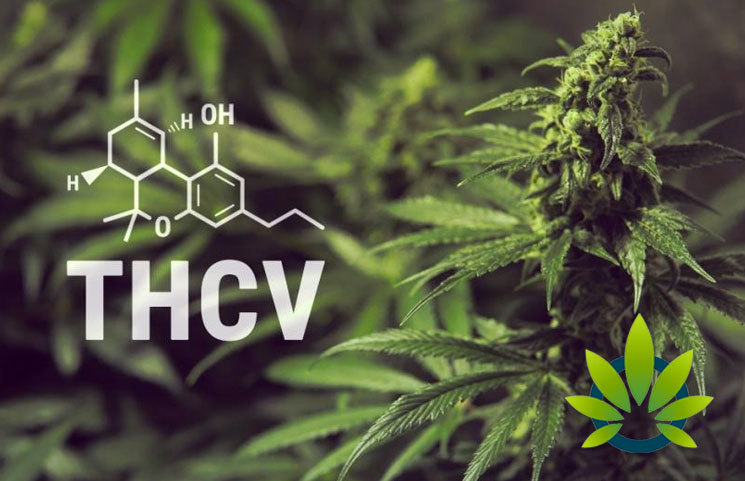 You've heard of THC and CBD – but have you heard of THCV? THCV is already being labeled the next big thing in weed. Like THC and CBD, THCV is one of hundreds of cannabinoids in cannabis.
New research, however, has turned this minor cannabinoid into a rising star. Tetrahydrocannabivarin (THCV) is an analog of THC, but it produces a completely different buzz than THC. Most strains today only contain trace amounts of THCV, but a handful of THCV-rich products are starting to emerge.
THCV is joining the ranks of other cannabinoids that are rising in popularity, like cannabinol (CBN), tetrahydrocannabinolic acid (THCA), and cannabigerol (CBG), all of which have started to attract their own attention. In fact, we're already seeing THCV-focused products emerge on the market. We're also seeing THCV-focused research published.
So what's the big deal with THCV? What does science say about tetrahydrocannabivarin? Today, we're explaining everything you need to know about THCV and its potential health benefits.
Scientific Evidence Behind THCV
THCV is produced by the cannabis plant in its precursor acidic form, tetrahydrocannabivarin acid (THCVA), which is similar to how CBD and THC are produced.
The acid is produced by cannabigerovarinic acid (CBGV), considered a central precursor in the cannabis plant. Then, the acid is eventually converted into THCV when the plant is exposed to heat or light. Even under a microscope, there's not much difference between THCV and THC. The two cannabinoids share a similar molecular structure and composition. In fact, THCV producers today need to run a special test to distinguish THCV and THC.
Despite the similar molecular structure, THCV interacts with CB1 and CB2 receptors in your endocannabinoid system in an entirely different way. In fact, one peer-reviewed study on THCV published in Molecular Biology in 2018 described the cannabinoid as an "anomaly" of the cannabis plant, describing it as the only known phytocannabinoid that acts as an agonist of the CB1 receptors.
Like THC, THCV binds strongly to the CB1 receptors in the central nervous system and the CB2 receptors found on immune cells. However, THCV does not have the same psychoactive properties as THC. It doesn't produce the same "high".
In fact, THCV might even nullify certain effects of THCV. It appears to act as an antagonist against THC. In this 2015 study published in Sage's Journal of Psychopharmacology, for example, researchers found that low doses of THCV inhibited the intoxicating effects of THC.
Interestingly, that same study showed that higher doses of THCV produced effects similar to THC. At low doses, THCV counteracts THC without producing a high, while at higher doses, THCV works similarly to THC.
Benefits and Effects of THCV
Studies on THCV are relatively rare, although more and more studies are published every year. Since 2011, various studies have connected THCV to the following benefits:
Appetite Suppressant
THCV appears to suppress appetite when used at doses between 5 and 7.5mg, which is obviously different from how its molecular twin, THC, works. THCV appears to inhibit appetite by antagonizing CB1 receptors. Because of this effect, some researchers have indicated that THCV could be an effective treatment for obesity.
It could reduce appetite in a natural way without the side effects of common anti-obesity drugs, which can include depression, anxiety, and insomnia, among other effects.
Better Glycemic Control and Reduced Diabetes Symptoms
One study indicated that THCV could enhance glycemic control in patients with type 2 diabetes. The study was published in Diabetes Care in 2016. Glycemic control is essential for preventing chronic complications linked to diabetes. When researchers analyzed doses between 10 and 20mg (considered a moderate to high dose), they found that THCV regulated blood sugar levels and reduced insulin resistance, both of which can help patients manage diabetes symptoms more effectively.
Epilepsy Treatment and Reduced Seizures
Some of the most promising research in the cannabis world is focused on epilepsy treatment. THCV has been researched as a potential anti-epileptic aid and could reduce seizures for epileptic patients.
This 2015 study published in the Journal of Clinical Pharmacy and Therapeutics, for example, showed that THCV had anti-convulsant effects and significantly reduced the rate of seizures. This study was performed in an in vitro model, although early results are still promising.
Reduced Risk of Parkinson's Disease
Research on THCV dates all the way back to 2011, when researchers analyzed the effects of THCV on lab mice and found some surprising benefits. The results were published in the British Journal of Pharmacology. Researchers found that THCV held antioxidant properties, for example, that could reduce the risk of Parkinson's disease and other neurodegenerative disorders.
Reduced Schizophrenia Symptoms
A 2015 study published in the British Journal of Pharmacology showed that THCV could have antipsychotic effects in lab rats, leading researchers to conclude that THCV could reduce symptoms of schizophrenia.
"[THCV could have] therapeutic potential for ameliorating some of the negative, cognitive, and positive symptoms of schizophrenia."
ADHD Treatment and Improved Focus
Some THCV products – including the Stimulate Tablingual lineup from Level we talk about below – market themselves as energetic blends.
They stimulate the mind and body while still giving you a buzz, making them a potential treatment for ADHD. Because of these advertised benefits, some believe THCV is a potential alternative to Adderall and other commonly-prescribed ADHD medications, although more research needs to be done to verify these effects.
THCV Products and Strains: How to Get THCV Today
If you're interested in the benefits of THCV, then you may be able to find a number of products that contain THCV.
Best Strains for THCV
Generally, there are few THCV-rich strains on the market. In fact, most cannabis strains have naturally low levels of THCV. You might only get trace amounts of THCV from the average cannabis product today. Many strains contain 0 THCV whatsoever.
While most strains contain high levels of THC and CBD, growers haven't been paying attention to THCV levels.
However, studies have shown that certain African origin strains have higher levels of THCV than strains originating from other parts of the world. Durban Poison, for example, has a concentration of 0.5% THCV, for example. As Weed Maps explains, some strains contain significantly higher levels of THCV as well. Pineapple Purps, for example, has about 4% THCV content.
Ultimately, there are few strains that contain significant levels of THCV. As research on the cannabinoid continues to grow, however, then this may change in the future. Growers and breeders are already seeing future opportunities with THCV and may start producing THCV-rich strains in the future.
Other THCV Products
Strains are still catching up to the rising THCV trend. However, certain THCV-focused products are already on the market.
In July 2019, for example, California-based cannabis flower company Flow Kana released a THCV-rich cultivar called Pink Boost Goddess. The product advertises 18.7% THC and 4.24% THCV content. According to a press release, Flow Kana is ideal for those seeking to reduce anxiety and suppress appetite while still getting high.
Certain vape products also advertise high levels of THCV. Doug's Varin, for example, is a THCV-focused brand released by Oakland, California-based California Cannabinoids. The brand features two THCV-rich vape pen products, including Doug's Varin Original and Doug's Varin Relief, both of which contain 25% to 30% THCV cannabis oil by weight.
Doug's Varin also sells a preroll containing flower with 3% THCV, 10% THC, and 4% CBG. In the future, Doug's Varin may release THCV capsules and tinctures. They could quickly become a leader in the growing THCV space.
Doug's Varin isn't the only company tackling the THCV trend. Stimulate Tablingual by Level is a lineup of THCV-enriched sublingual tablets that contain equal concentrations of THC, THCV, and CBG. These products actually use the same Doug's Varin THCV-rich cannabis as the products listed above. Level, meanwhile, is marketing their Stimulate Tablingual products as a way to stimulate and energize the mind while also getting an enjoyable buzz.
Is THCV The Next Big Thing in Weed? Maybe Not
There are hundreds of cannabinoids in cannabis. You've already heard of THC and CBD, but a growing number of people are now hearing about CBN, CBG, and THCV.
Could THCV become popular? Is THCV really the next big thing? Is every cannabis company going to release its own THCV-rich strain or THCV product? There are several significant hurdles THCV needs to overcome if it wants to become anywhere near as well-known as CBD and THC.
There's one big issue, for example, with THCV's purported benefits: the benefits of THCV-rich strains might have nothing to do with THCV. Tristan Watkins, Ph.D., was interviewed by WeedMaps on the potential benefits of THCV:
"Unfortunately, a lot of the strains that are naturally high in THCV also have a unique terpene profile as well, so it's really hard to point THCV as being the only player. When you have a strain that was grown in one part of the world, it probably naturally expresses a completely different composition of these compounds in relation to its environment."
In other words, the benefits of THCV-rich strains like Durban Poison might have nothing to do with THCV: it might be because they're all sourced from the same part of the world and have similar terpene profiles.
In one of the studies listed above, the benefits of THCV were equally as unclear. THCV worked against THC at low doses, for example, and then complemented THC at high doses. More research needs to be done to clarify these benefits – if any benefits really exist.
Another issue that could hinder the rise of THCV is its availability for producers: THCV can't really be sourced from industrial hemp plants, which are now legal to grow nationwide after the passage of the 2018 Farm Bill.
Part of the reason why CBD has exploded with popularity is because it's easy to get CBD from industrial hemp. THCV, meanwhile, does not have the same benefit. You need to get it from marijuana plants, which cannot be grown legally nationwide. Making things even more complicated is that THCV is so similar to THC at a molecular level that it can be difficult to identify. A special analysis needs to be performed to distinguish between THC and THCV.
Then, there's the fact that THCV doesn't have much demand right now. There's limited consumer knowledge of THCV. Until that demand rises, producers are going to have little incentive to create THCV. The cost of producing THCV is also prohibitive for most producers. As explained by WeedMaps:
"…there are certain other obstacles preventing THCV-heavy strains from taking a bigger slice of the cannabis market's fruitful pie, as these plants are both difficult to grow and have lower yields on average. Currently… high-THCV plant biomass sells for $1,000 per pound, while crude 35% THCV is priced at $30,000 per kilogram. "
For all of these reasons, THCV still has several problems to overcome before it becomes the next superstar of the cannabis industry.
Final Word
THCV could be the next CBD or THC, and a handful of THCV-rich strains and products have started to emerge. However, more research needs to be done on THCV to verify the benefits of the cannabinoid – if there are any benefits whatsoever.
THCV could certainly be the next big thing in cannabis. Or, it could fade into obscurity like the hundreds of other cannabinoids in cannabis we've never heard about. Stay tuned for more information about THCV as the market continues to grow.
Source: https://timesofcbd.com/tetrahydrocannabivarin-thcv/