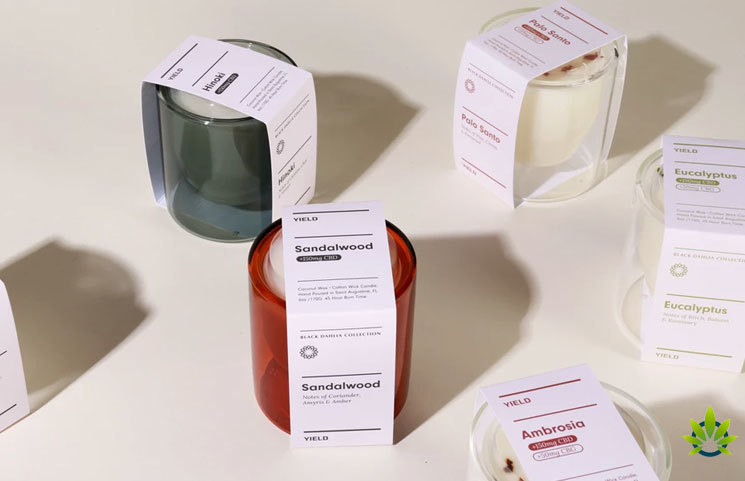 Take Self Care to a New Level with Newly Released CBD Oil-Infused Candles
CBD candles are meant to promote "clean, balanced living."
Few studies have been done on the effects of CBD as aromatherapy.
CBD oil is having a popular moment in the economy, as many companies seek out to launch products and set themselves apart. Now, there's one more to add to the list – a new line of cannabidiol-infused candles from Yield that are filled with 150 milligrams of CBD.
CBD is found in marijuana, but it is the substance that doesn't cause the user to feel high, and the Farm Bill last year made it possible for hemp CBD to be distributed. Throughout the industry, despite limited evidence (at best), it is being advertised as a way to soon pain, relieve anxiety, fight epilepsy, and even fight seizures.
The use of candles already creates a relaxing mood for the user, so the use of CBD could be a way to help with the relaxing effect. While aromatherapy with CBD is a largely unstudied use case, a study in 2017 showed that individuals who smelled essential oils with CBD reduced their blood pressure and felt both calm and energized. However, consumers should keep in mind that this study only included five people, so there is far from enough evidence to back up these claims yet.
Yield Design has made no statements that these types of candles will provide pain relief or improve sleep, but their advertisement states that they will help with "clean, balanced living." The CBD-infused essential oil candles by Yield include sustainably sourced ingredients, like coconut wax and cotton wicks, but consumers can choose their preferred aroma between Palo Santo, eucalyptus, and ambrosia.
In a report from House Beautiful, two editors decided to try out the candles, saying that they felt more relaxed. However, the fact of simply lighting a candle to wind down could easily be the big reason. As far as the scent, consumers won't have to worry about having a hemp smell, as the company created the aromas to be mellow and earthy.
These candles can burn for about 45 hours and can be purchased from the official YieldDesign.co website.
Source: https://timesofcbd.com/yield-design-cbd-candles/